Psalms 139: 13-16 is the opening page for my first Faithbook. The theme,
You Are Who You are For a Reason
, continues throughout the book with every page. My last blog post (in Feb.) shows the inspiration and some ideas for completing an 8x8 book.
My inspiration for these awesome paper flowers came from
Lisa at What A Beautiful Mes
s
. I honestly have been referring to her flowers and flourishes for a while because they are so AWESOME! These
pink flowers
were stamped, cut out, and sprayed with water to crinkle up. After drying I inked and painted with Glossy Accents which also holds the jewels in the center. Metallic gold edges the flowers
The little gold metal flowers are ornament tops flattened with a jewel placed in the center. I then handcut a few leafy vines from patterned paper to surround the yellow glittered flourishes.

This finishes my first complete Faithbook. I hope it was an inspiration to you.
I have linked this project to :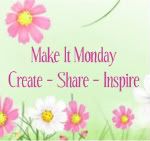 For the month of April, this project will be a "Guest Post" for